Archive for the 'Christ & Münch' Category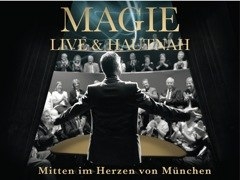 Magic up close – Germany's first close-up theater with Alexander Krist and Christian Münch enchanted with an evening full of surprises. What is special about this unique theater of magic, that the guests sit in the style of an ancient amphitheater at the table, the magician and the incredible shows from a distance of up to 4,5 Meters witness.
"Magic – live & close" brings out the best "The magic show to dream" and "Incomprehensible Guaranteed". It is a program for the hearts and minds. The viewers experience moments, where they will not believe your eyes, Moments, touch their hearts filled with wonder and two hours. Together with the magicians, it goes on a journey into a fascinating world, in which our well-known laws of physics and logic do not apply – a journey to the limits of reason and beyond.
CHRIST & MÜNCH Table Magic Theater
Thursday 01.09.2011, 20:00 Clock
Friday 02.09.2011, 20:00 Clock
Saturday 03.09.2011, 20:00 Clock
Thursday 08.09.2011, 20:00 Clock
Friday 09.09.2011, 20:00 Clock
Saturday 10.09.2011, 20:00 Clock
Sunday 11.09.2011, 19:00 Clock
Thursday 15.09.2011, 20:00 Clock
Friday 16.09.2011, 20:00 Clock
Saturday 17.09.2011, 20:00 Clock
Sunday 18.09.2011, 19:00 Clock
Thursday 22.09.2011, 20:00 Clock
Friday 23.09.2011, 20:00 Clock
Saturday 24.09.2011, 20:00 Clock
Sunday 25.09.2011, 19:00 Clock
Thursday 29.09.2011, 20:00 Clock
Friday 30.09.2011, 20:00 Clock